Welcome to the Noblesse Wiki
Please note that this wikia contains heavy SPOILERS for the entire Noblesse Manhwa.
Noblesse (노블레스) is an online webtoon written by
Son Jae Ho
and illustrated by
Lee Gwang Su
. It is a story about a powerful Noble,
Cadis Etrama Di Raizel
, who fell asleep for 820 years and woke up one day in South Korea in an abandoned
building
. With the help of his faithful servant
Frankenstein
, he enrols in Ye Ran high school where he befriends
Han Shinwoo
and his friends. They are soon joined by modified humans and even other nobles in
Frankenstein's household
. The series follows the group's often dangerous adventures against a secret organisation while uncovering Raizel's past. This wiki contains already
71,396
numbers of edits and in total of
980
articles since it was created in
January 2011
.
Important Links
News
A new anime has been announced, and will be airing later this year. The series is a collaboration between Crunchyroll and Production I.G., the Japanese Studio that animated the Noblesse: Awakening OVA.
If you want to make friends and keep up to date with the latest developments on the site and the series, then you can join our Discord server.
Recent Wiki Activity
Now what? to Read\Watch...
comment by LuvOf99Th 8 hours ago

| | |
| --- | --- |
| | Ah. That's the offcial site but now that they have put in the daily pass system you'll only be able to access one new episode per d...  |
| | |

Chapter 014
edited by Marion0Ame 8 hours ago
Affiliated Wikis
If you would like to affiliate with us. Please contact an admin.
Featured Article
RK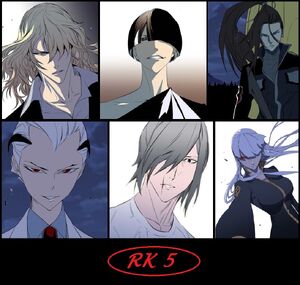 The Raizel Knights, also known as RK, is a "club" formed by Tao as a joint fighting venture. At first, it appeared to be formed mostly for fun and was created without Rai's acknowledgement, though he is now aware of it. It seems to have become an official group due to Rai's lack of disapproval and silence on its formation.
Read more...
Contribute to the Wiki
Our wiki content is getting vast with the growing popularity of the Noblesse manhwa. We would love to have more hands in updating and content management. Your contributions are always welcome.
Ongoing Projects
Not sure how to begin?

Notice a spelling error, or misinformation? Go edit it! We really would appreciate it here at the Noblesse Wikia Community! Noblesse is a great manhwa and it would be really nice if you could help us prove that to everyone! The greatest way to start off is to join our community.

If you would like to add appropriate contents to a new separate page, feel free to create a new page! Mistakes can be reversed.

If you would like to suggest an article, category or other page that you think should be created but you don't feel you can create it yourself, describe what you want at our FORUM. Here you can also discuss the manhwa, characters and share your views/opinions with other Noblesse fans like you.

Or if you would like to share something exclusive with us, write your own blog!

You can find a list of handy templates here.

If you need any sort of help or have any questions/suggestions, feel free to contact an admin.
Polls
Who is your favorite character in Noblesse?
Your favourite popular pairing in Noblesse:
Whose death made you saddest?
Did you enjoy the ending?
Community content is available under
CC-BY-SA
unless otherwise noted.